Subscribe now and never miss a future episode of The Millionaire's Lawyer: Grow and Sell Your Business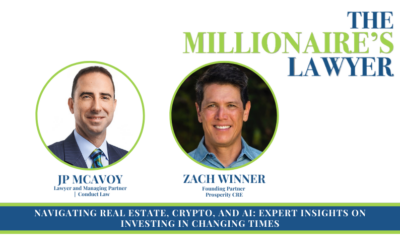 In this episode, JP and Zach provide insights into upgrading units to boost cash flow, syndicating deals to passive investors, typical returns, predictions for interest rates and real estate cycles, views on Bitcoin and cryptocurrency, and pondering how rapidly advancing technologies like artificial intelligence may impact our future.
read more
The Millionaire's Lawyer Podcast – As Featured On…
Millionaire's Lawayer Inc. is not a law firm. Millionaire's Lawyer Inc. ("ML") is a company providing informational products, DIY forms, materials and legal document assistance (as defined in Business and Professions Code §§ 6400 – 6415) to its users. Founder and CEO, JP McAvoy, is a licensed attorney providing corporate law legal services through Conduct Law Professional Corporation, dba ConductLaw.  In addition, JP provides business consulting advice through Private Corporate Counsel ("PCC").  ML, Conduct Law and PCC are separate legal entities and must be retained as such and can not bind or be held liable for any acts of the other.
Copyright 2023.  |  Millionaire's Lawyer Inc.  |  All Rights Reserved.