Subscribe now and never miss a future episode of The Millionaire's Lawyer: Grow and Sell Your Business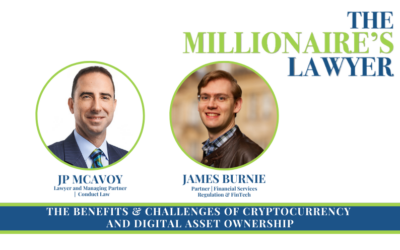 Web3 is a new era of the internet, with the introduction of blockchain technology and decentralized applications (dApps). It is transforming the way we interact with each other online and how we use data. Some of the most popular aspects of Web3 are Non-Fungible Tokens (NFTs) and cryptocurrencies, which are digital assets that have unique properties and can be used for various purposes.
read more
The Millionaire's Lawyer Podcast – As Featured On…
Millionaire's Lawayer Inc. is not a law firm. Millionaire's Lawyer Inc. ("ML") is a company providing informational products, DIY forms, materials and legal document assistance (as defined in Business and Professions Code §§ 6400 – 6415) to its users. Founder and CEO, JP McAvoy, is a licensed attorney providing corporate law legal services through Conduct Law Professional Corporation, dba ConductLaw.  In addition, JP provides business consulting advice through Private Corporate Counsel ("PCC").  ML, Conduct Law and PCC are separate legal entities and must be retained as such and can not bind or be held liable for any acts of the other.
Copyright 2023.  |  Millionaire's Lawyer Inc.  |  All Rights Reserved.